Metal Church Chairs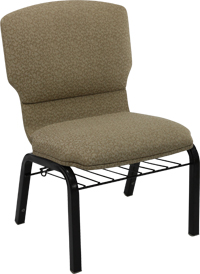 In response to the demand in the church seating market for a quality metal church chair at an affordable price we added metal church chairs to our product line. Our metal church chairs are engineered and manufactured under the same strict quality control guidelines as our wood chairs and have numerous features that set our metal church chairs apart.
We understand the importance of strength and durability in metal church chairs. Our metal church chair features a 16 gauge, mandrel bent frame for optimal support and multiple cross-members to add strength and stability that stand the test of time. In addition, our metal church chairs combine the finest elements of quality construction such as premium plywood seat and back supports with T-nut assembly.
At Uniflex we understand that lasting comfort is key in quality metal church chairs. We combine ergonomic lumbar support and a contoured seat in each metal church chair for enhanced seating comfort. We also use a very high performance seat foam that does not break down over time.
Contact Uniflex and let one of our friendly furniture product specialists help you design the perfect metal church chairs for your worship place!
Click here to view all metal models and multi-purpose stack chairs