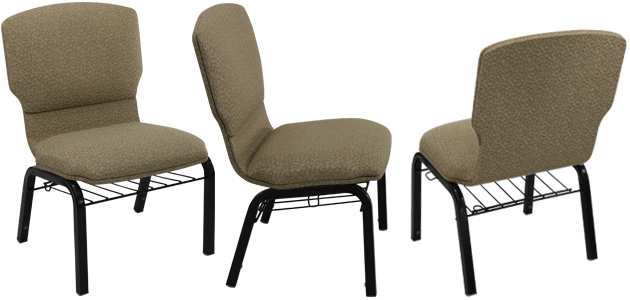 The Apex
Where Luxury & Affordability Meet
Exceptional Craftsmanship and Design
Contoured Unibody Construction With Ergonomic Back Support
Specifically Designed for Fellowship and Flexibility
Durable, Zero Maintenance Metal Finishes
Lifetime Warranty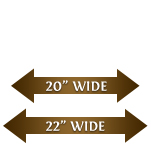 Wider Widths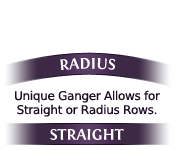 Unique Ganger
Apex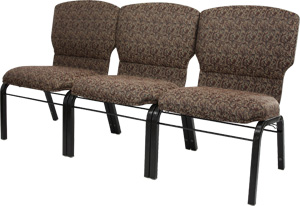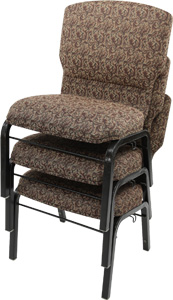 The Apex is a different kind of metal chair. It offers the comfort, beauty and elegance of a unibody design combined with a unique metal alloy base frame. The base frame on the Apex consists of mandrel bent 1 ¼" tubing and is available with or without a dual access bookrack. The Apex comes standard with our exclusive dual position hideaway ganging device. In addition, the Apex is equipped with the same industry leading seat foam as our other worship seating. The Apex is available in widths of 20" & 22".
Stacking...
Uniflex modular seating is a fully adaptable solution for the flexible sanctuary. These durable chairs can be easily stacked and moved with our custom chair dolly. The special powder coat finish is made to withstand the rigors of frequent stacking.
Accessories...
Optional accessories for the Apex include a communion cup holder, dual access bookrack and seatback card and pencil holder.
Hideaway Ganging Feature...
Our unique hideaway ganging feature consists of a metal alloy dowel which locks down onto a high impact polymer plate. This plate swings away when the chair is along side an aisle or is a stand-alone chair. Plus there are no exposed hardware or rough edges to snag clothing or skin. The ganging feature allows for either straight line or radius seating placement.
Assembly
The unique Apex base frames consist of 1 1/4" metal alloy tubing that is Mandrel bent for a stronger and more attractive result. These base frames are attached to our molded hardwood unibodies with heavy duty T-Nuts for a metal to metal connection.